Plan on attending our Fall 2022 Convention for a Wallace Nutting getaway
in the beautiful Finger Lakes region of New York State!

The Radisson is positioned in the heart of Corning and within walking distance to historic Market Street, which features many shops and restaurants, as well as the Corning Museum of Glass and other famous landmarks.
---
Join us for lots of fun, camaraderie, buying & selling, and celebrating being together at an in-person convention for the first time in 3 years!

Our schedule will vary somewhat this year where we'll kick things off with having our annual Club Dinner on Thursday evening. Plan to meet up with fellow members for catching up and cocktails, and then having dinner at the hotel (see full entree choices below). Staying in this location provides convenience and an easy transition without additional travel.

Our Friday morning Marketplace will offer lots of buying and selling opportunities, where there will be new finds and deals to be had. And then we have some excellent presentations lined up, which are detailed on agenda below.

On Friday afternoon we plan to go the Corning Museum of Glass for lunch in their Café and then touring the museum. In addition to viewing all their amazing glass collections, there are Hot Glass & Flame-working demonstrations, plus you can even make your own glass. This is entirely optional and there are also many more things to see and do in this lovely area, inclusive of the Rockwell Museum (a Smithsonian affiliate) plus taking in all the lakes, waterfalls and wineries! Scroll down to see list of suggestions below the agenda.

---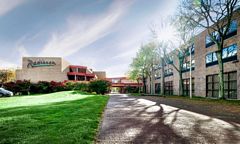 Hotel Reservations:
From the Radisson's website, choose your dates and occupancy.
Under the "Special Rates" dropdown menu choose "Promotional Code" and type in "WNCC" for our discounted rate ($139+ tax for 1-king or 2-queen beds).
To call the hotel directly: 607-962-5000. Mention "Wallace Nutting Collectors Club Group Rate" when reserving.
To call the Radisson Hotels Worldwide Central Reservation office: 800-333-3333. Request the Corning NY property and the same group rate code.

If anyone would like to extend their stay in this area, the hotel has also provided the $139/night (+ tax) rate for our group from Wednesday, 9/21 through Saturday night, 9/24 (pending availability).

Our discounted room block is being held until August 24, 2022. Free cancellation up to 2 days prior to arrival date and by 6:00 PM EDT.
Online Registrations for the 2022 Convention
Convention Registration; Exhibitor Table; and/or Club Dinner
using the PayPal drop-down menu below


Once you select an item from the drop-down menu, click the "Add to Cart" button and it will show up on a PayPal page.

If registering more than one person for the Convention; choosing the same Dinner; or if you'd like to reserve more than one Exhibitor Table, you will be able to increase the quantity to the desired amount on the PayPal shopping cart page.

Once complete, please review your PayPal purchase list (which you can edit if need be) and then make one payment for everything. Following that, you'll receive an email receipt.
These are the dinner options that are available and shown on the registration form. Each entree includes a mixed green salad, dessert and non-alcoholic beverages such as coffee and tea. Soda and alcoholic beverages are available at an additional charge.
Chicken Parmesan, served with Pasta & Fresh Season Vegetable ($28)
Cedar Plank Salmon w/ Sundried Tomato Butter, served w/ Rice Pilaf & Fresh Season Vegetable ($35)
Tri-Color Cheese Tortellini with Roasted Vegetables and Creamy Parmesan Garlic Sauce ($28)

2022 Convention Agenda
(possible subject to change)

Thursday, September 22nd
(located in the Carder Room)

5:00 - 6:00 PM
Member gathering for "catch-up & cocktails"
6:00 - 7:30 PM
Dinner at the Radisson
7:30 - 9:30 PM

Hospitality Gathering with a fun & informal "Show & Tell"

Friday, September 23rd
(located in the Carder Room)

7:00 - 7:30 AM
Wallace Nutting & Nutting-Like Marketplace - Exhibitor set-up
7:30 - 9:30 AM
Wallace Nutting & Nutting-Like Marketplace
(tables will remain set up throughout the morning)
9:30 - 9:45 AM
Annual Meeting
9:45 - 10:20 AM
"Views of Finger Lakes Hand Colored Photography"
by Jan Liberatore

Jan will give a presentation and exhibit of hand-colored photography of the Finger Lakes area including Wallace Nutting, Charles Sawyer, W.J. Harris, C.A. Payne, Burnell, and Woodward. Jan will also talk about area attractions that you will want to visit while you're visiting the Finger Lakes.
10:20 - 10:55 AM

"Expanding the Appeal of Other Early 20th Century Hand-Colored Photography"
Led by Scott Jones, Sharon Lacasse & Diane Thompson-Naylor

Our Wallace Nutting club expands to new frontiers, by discussing hand tinted photography from east to west; come prepared to discuss your favorite photographers and their contemporaries.

10:55 - 11:30 AM

"Ways to Better Promote our Club & Online Presence"

Round Table Talk led by Tieler Niedzwiecki, Jim Eckert & Mike Ivankovich. We welcome all suggestions in this discussion!

Friday afternoon
A group of us plan to go the Corning Museum of Glass for lunch in their Café and then touring the museum on our own. In addition to viewing all their amazing glass collections, there are Hot Glass & Flame-working demonstrations, plus you can even make your own glass. This is entirely optional. Scroll down for more things to see and do in the area.
Friday evening:
5:00 PM Dinner
If staying over on Friday night, meet for an informal meal at Sorge's, an Italian/American restaurant, and less than a mile from the Radisson on Market Street.

Other Local and Surrounding Area Highlights and Suggestions
whether you're interested in museums and historic visits, shopping, taking in the
beautiful lakes & countryside, hiking, visiting wineries, etc...there's something for everyone!!

Other Local Highlights and Suggestions:

Within walking distance to the hotel are many restaurants and shops, including the famous Corning Museum of Glass and the Rockwell Museum of Western Art.


Tour the nearby wineries of the Finger Lakes.


Of special interest too are Montour Falls, Aunt Sarah's Falls, and Watkins Glen Gorge State Park.


Watkins Glen and Seneca Lake are approximately 30 minutes from Corning.


You can stand in the same spots that Wallace Nutting stood to take pictures that are shown in New York Beautiful and were also marketed as hand-colored photographs.


Locate where Charles Sawyer took quite a few popular photos in the Finger Lakes Region including pictures in Watkins Glen, Seneca Lake, Cayuga Lake, and Ithaca just to name a few.


W. J. Harris had an office in nearby Penn Yan, NY on Keuka Lake and did many real photo postcards and hand-colored photographs of the Finger Lakes Region